Why
v

Space Pro 11?

You have a room or office full of people who all need computers. You could buy them, but that's expensive and boring, at least until they start having issues. Then they're expensive and frustrating.

The smarter approach is to simplify what you deploy and save a bunch of time, money and effort.
It's Easy to Setup
So you buy a server and install vSpace Pro. It's replacing all those computers and hosts your virtualized desktops, probably in another room where you can't see or hear it. You give each of your users a keyboard, mouse and monitor, then plug them into an NComputing access device like the RX300. Connect to your network via LAN or WIFI, and now each of your people have their own virtual computer. That's it.
You'll Slash Costs
It's quiet in here. That's because there are no fans or hard drives spinning around, creating heat that your air conditioner then works hard at removing. You're saving money on acquisition costs, energy, and maintenance while reducing noise pollution. Did we mention the access devices are small and can mount to the back of your monitors? Genius.
Everything is Centrally Managed
Rejoice, the user data is on the server and easily backed-up. The applications and operating system are as well, so you are maintaining just one server instead of an army of computers. Your antivirus protection is now centralized to one system to help prevent malware, viruses and data theft. Updates to vSpace Pro come with firmware for the access devices which are applied by a single button push. Genius.
You'll be more productive
Inexpensive pieces with few moving parts mean less maintenance and attention required by IT, allowing your people to be more productive with less down-time. The computing experience is the same if not better than having a full computer hiding under each desk. Use the RX300 with adapter and you've got access to a second display. Now that's how you Compute Smartly.
What does this virtual computer look like?
vSpace Pro supports 10 popular Windows™ Operating systems, including Windows 10 along with Windows Server 2016. If you use Windows, you'll be right at home. Compatibility List

Access the Windows store, Windows desktop and applications like Cortana and the Edge Browser.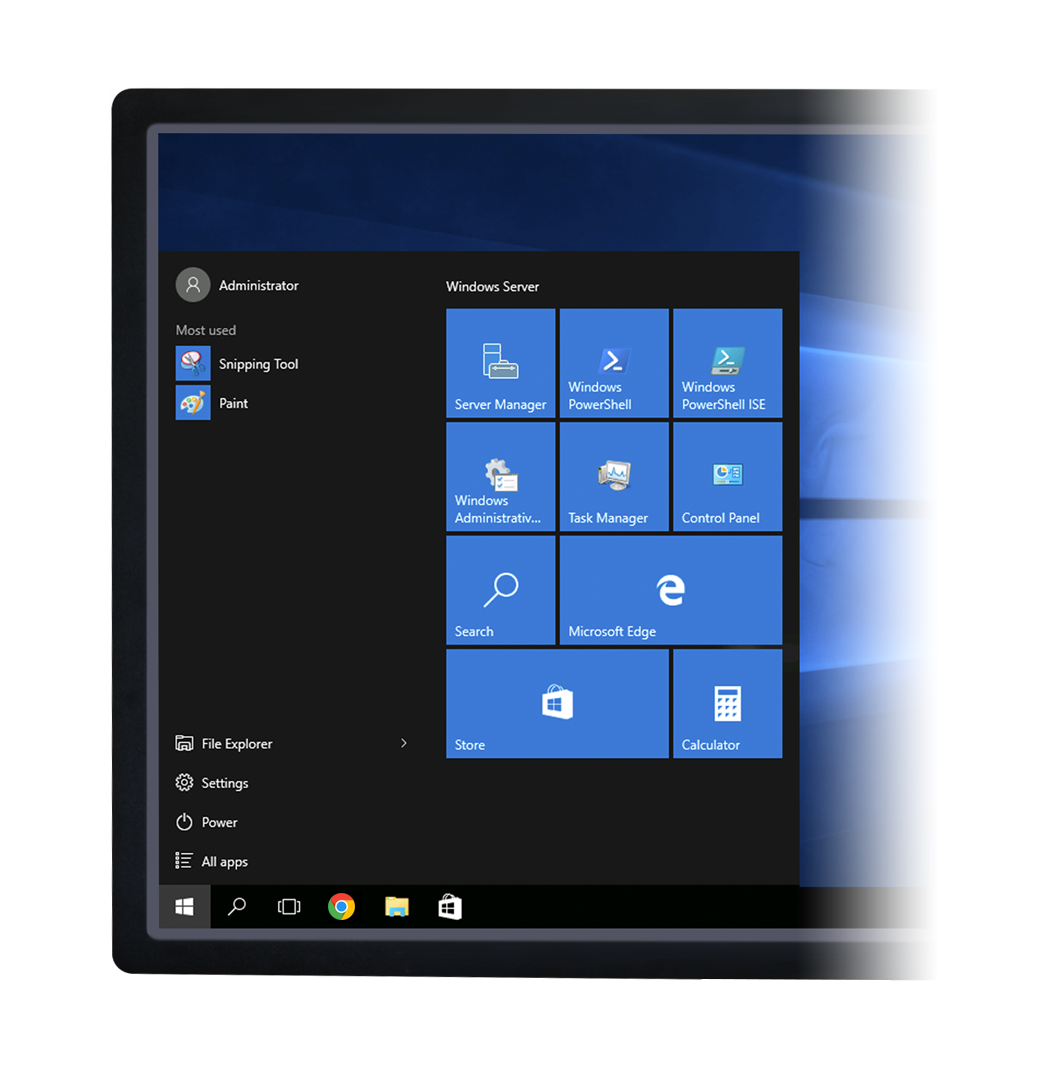 How do I access the virtual computer?
vSpace Pro supports L-series, MX-series, and our latest RX300 access device as well as some legacy products. You can even use a Windows computer you already own by installing vSpace Pro Client - a great solution for repurposing outdated computers that can't keep up with today's computing requirements.
How difficult is managing all this?
vSpace Pro 11 comes with vSpace Console, software to centrally manage all your connected user sessions and access devices. We also provide a web-based management portal for anywhere-access to help you manage your hardware warranties, deployed assets, NComputing licenses, health monitoring and much more. It's all there.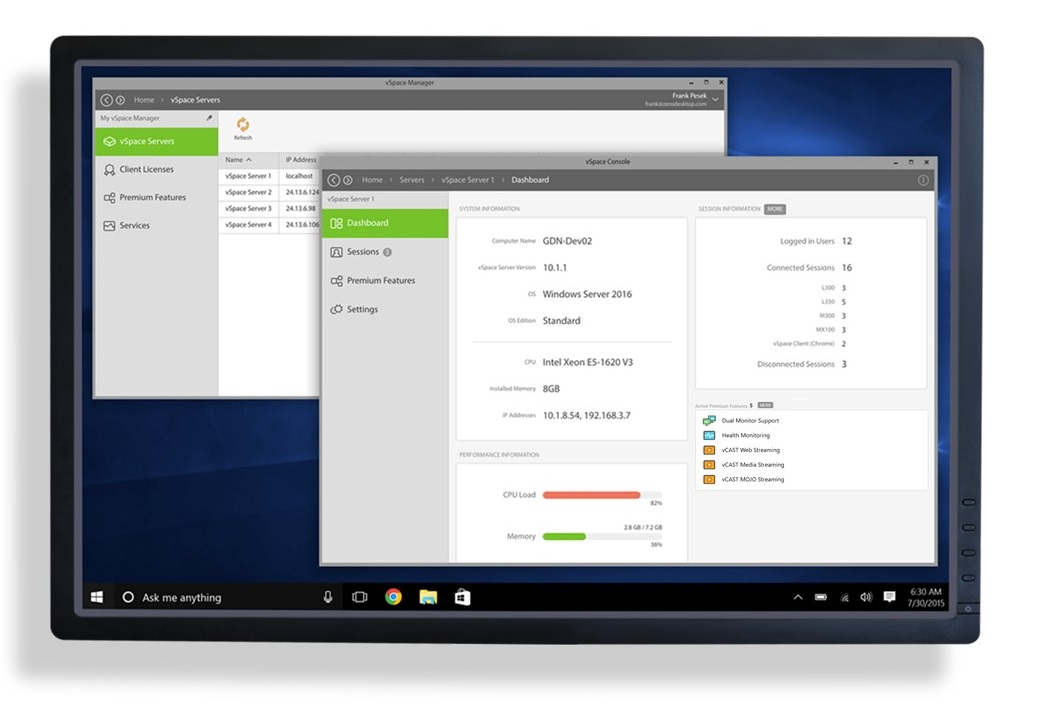 What's new in vSpace Pro 11.2? We're glad you asked.
The core of vSpace Pro 11 doesn't have a laundry list of new features, but what it does have is significant. vSpace has always used UXP (User eXperience Protocol) to regulate information between the server and the access devices. While vSpace has grown over the years, this protocol has largely remained the same. It just worked.
In addition to
UXP 2.0, vSpace Pro 11 brings back
MultiView from vSpace 8 with additional session controls like Broadcasting & Block All, and
Dual Monitor support is now native & doesn't require a separate license—add our Secondary Display Adapter (SDA) to the RX300, or fire up a dual monitor configuration with vSpace Pro Client for Windows.

This release is all about making what worked well, work better. We optimized the protocol for speed and efficiency, reducing network traffic and increasing performance for all our access devices.
As an example, the L300 will see up to a 27% reduction in traffic, while RX300 and vSpace Pro Client for Windows will see as much as a 43% traffic reduction. If you are using vSpace 8 or 10, this update will make a noticeable difference.
vSpace Pro 11.2 opens the doors to programmable computers for educators and students.
In vSpace Pro 11.2 we added the ability to communicate directly with Arduino and BBC MicroBit programmable computers.
Now each user has their own environment for programming and writing to these platforms through the USB port on the thin client. Usually, this process would require dedicated PCs or Chromebooks with monthly per-user subscriptions.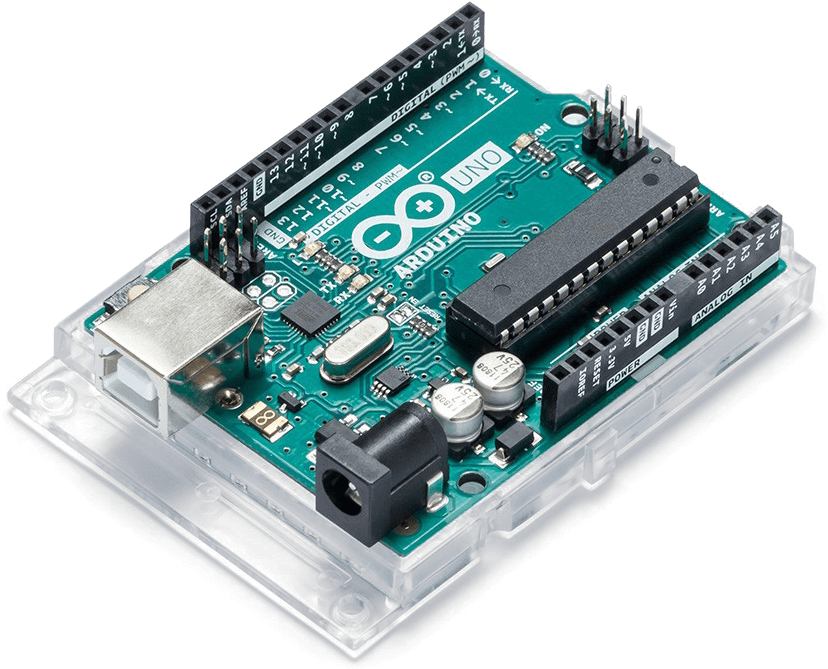 Arduino
Arduino is an open-source electronics platform based on easy-to-use hardware and software. Arduino boards are able to read inputs - light on a sensor, a finger on a button, or a Twitter message - and turn it into an output - activating a motor, turning on an LED, or publishing something online. You can tell your board what to do by sending a set of instructions to the microcontroller on the board.
BBC MicroBit
BBC Micro:Bit is another popular programming platform for all sorts of cool creations, from robots to musical instruments and is widely used in many schools around the world. It can be coded from any web browser in Blocks, Javascript, Python, Scratch and more.
Advanced features of vSpace Pro, now FREE in 11.2
What does
v

Space Pro cost?

Believe it or not, we give it away for free. And by free, we mean download it, install it, use our self-help center and documentation to get everything up and running, and expand until your heart's content. And with this latest version of vSpace Pro, we've included Dual Monitor support and a revamped UXP 2.0 protocol that will increase the performance of older L-series and M-series devices, not to mention the RX300. Oh, and we give you a 30-day free trial of AMP for vSpace Pro. Free trial of what?
v

Space Pro is great. What about support?

AMP for vSpace Pro is an Annual Maintenance Program that includes live technical support, health monitoring tools, and free software licenses.
AMP for
v

Space Pro includes:
Technical Support
In addition to the Help Center and product documentation that is available to all, AMP subscribers have access to additional support channels:
Unlimited support tickets submitted through the Help Center
Phone support*
Live chat support on our website*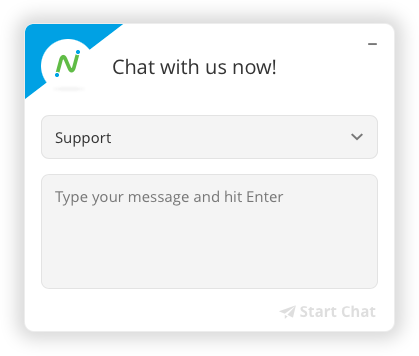 Health Monitoring
Deploy vSpace desktop virtualization with confidence by monitoring your Windows and vSpace resource utilization through the cloud dashboard. It's now easy to access and see insights into key health metrics including memory usage, connected servers, CPU utilization, and active users. You can see 30 days of historical data in 24-hour, 7-day and 30-day increments. Receive real-time alerts on excessive usage with the NComputing Health Monitor companion mobile app (android only).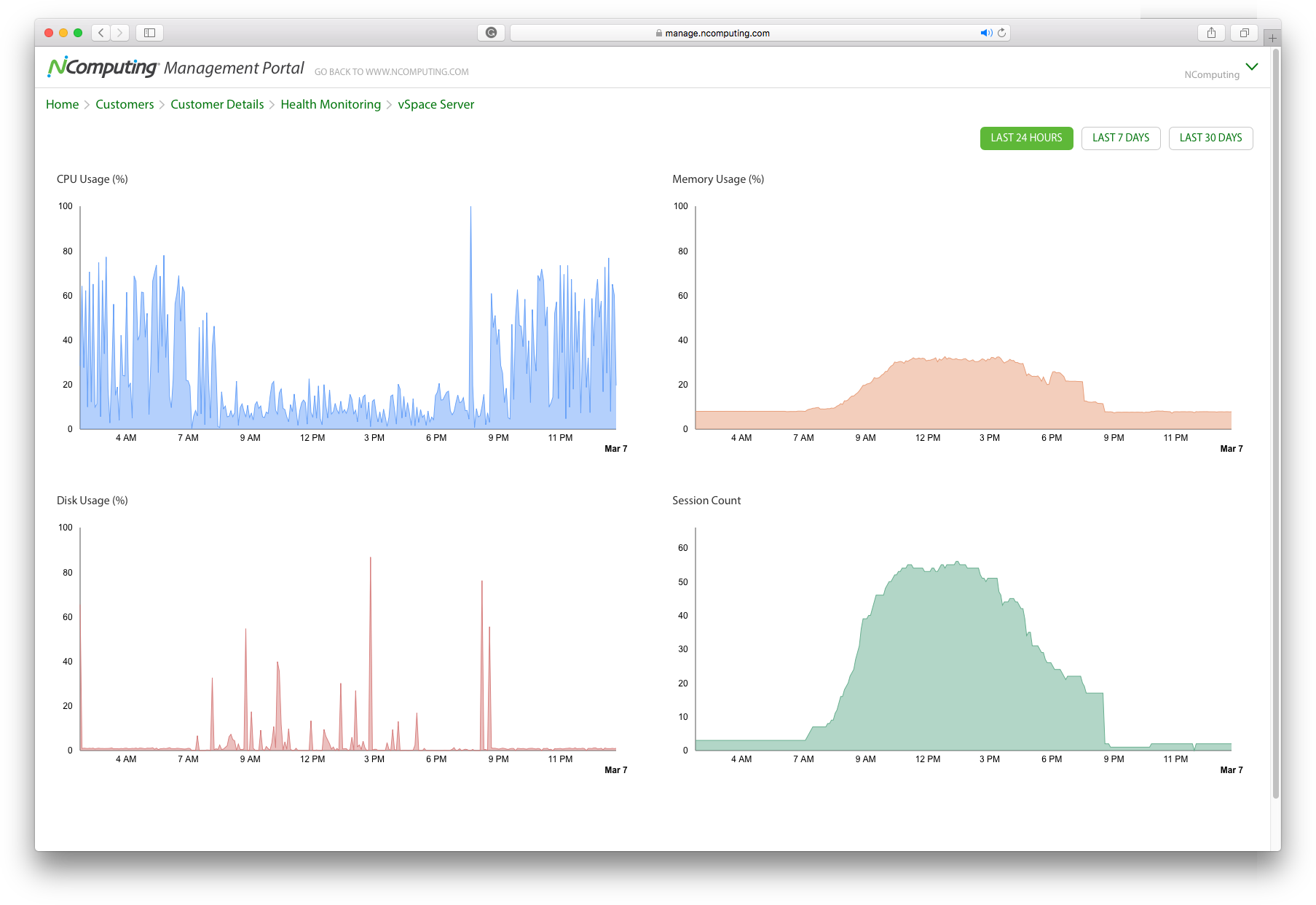 Complimentary Licenses
vSpace Pro Client: We include 5 free licenses* for vSpace Pro Client. Bring a modern Windows desktop to your existing PC or Chromebook with vSpace Pro Client. Once installed, connect to your vSpace Server and enjoy a secure, modern Windows desktop without the expense of switching or upgrading hardware.
PMC: With PMC device management software you have complete control of all your RX300 access devices from any web browser.* Organize single or multi-site deployments and apply firmware updates, configuration changes, device resets and more. PMC makes managing your RX300 access devices easy - Learn more here.
* complimentary licenses require an active AMP subscription.
Ready to get started? Let's go.
If you need technical help with NComputing products you currently own, please click here to submit a support ticket so we can help you faster.
If you have questions about our products and services, and wish to speak with an NComputing representative, please complete this form and we will contact you shortly.
Here's what our clients have to say
The response has been so overwhelmingly positive
that we decided to share with you some of the kind words.
The combination of simple implementation, low management overhead, and low costs is coupled with a high-quality PC experience.
NComputing Vendor Profile

IDC
NComputing allowed us to be smart without worrying about buying lots of clunky kit and hiring more IT staff.
Matthew Evans
IT Director
Explore Learning
We haven't had to do any work on a student device the entire year, which is pretty incredible. It's like nothing I've ever supported before.
Todd Pilch
Technology Director
Sisters School District
NComputing devices and software deployed at ESIC hospitals ensure effective and optimum utilization of resources at minimum cost to ESIC beneficiaries
Ashok Tripathy
General Manager
WIPRO Infotech
The fast deployment-followed by cost benefit, zero downtime, the openness of use with any operating system, and optimum space utilisation-made this one of the best services we have received to date.
P. K. Sinha
CEO, Centre of Excellence & Director
Astric Computers
NComputing shared desktop computing technology delivers significant cost savings, which we can re-invest in software and services to ensure our students benefit from the most advanced and high standard of curriculum possible.
Dr. J S Sodhi
Head IT
Amity Education
DOWNLOAD vSPACE PRO 11
vSpace Pro is free to download, but requires that you are logged in to your ncomputing.com account. Please login, or create a free account now.
SUPPORTED THIN CLIENTS
SUPPORTED SOFTWARE CLIENTS
SUPPORTED OPERATING SYSTEMS
Windows Server 2016
Windows Server 2012 R2 U1
Windows Server 2012
Windows Server 2008 R2 SP1
MultiPoint Services Role - Windows Server 2016
Windows MultiPoint Server 2012
Windows MultiPoint Server 2011
Windows 10 (64-bit) *
Windows 8.1 (64-bit) *
Windows 7 (64-bit) *
* 1:1 VDI SUPPORTED ACCESS CLIENTS
Videos
vCAST Web Streaming tutorial
vSpace Pro Installation guide
Management Portal overview
vSpace Pro 11 FAQ
What's new in vSpace Pro 11?
vSpace Pro 11 builds on the success of vSpace Pro 10, featuring the same easy setup, productivity enhancements, and central management vSpace is known for while adding new innovations such as vCAST streaming, Broadcasting, UXP 2.0, and built-in support for Dual Monitor setups where applicable.
vSpace Pro 11 also introduces the AMP (Annual Maintenance Program) adding additional features and support for a nominal fee.
Is vSpace Pro 11 free to download and use?
What are the benefits of vSpace Pro 11 over vSpace Pro 10?
vSpace Pro 11 introduces the UXP 2.0 protocol (NComputing's communication protocol between vSpace server and access devices), which significantly reduces network traffic for all access devices by up to 43% as compared to UXP 1.0 protocol.
Multiview, a popular feature from vSpace 8, is back in vSpace Pro 11. MultiView provides a dashboard of active session thumbnails, allowing a lead user to message other users or take control of their sessions, a popular feature for use cases such as classrooms or workgroup environments.
Broadcasting and Blank All: Broadcasting extends the MultiView feature by providing screen sharing functionality, allowing one screen to be broadcast to others. Instructors or team leaders can broadcast their screen, or a student's screen, to everyone else. Perfect for presentations, sharing local or web videos, or highlighting other content within a group. Blanking all active session provides instructors or team leaders instant control to focus attention of the audience.
vCAST Streaming: Reduces server-side CPU for web videos and local media content, enabling more concurrent users on your system. No additional license is required starting vSpace Pro 11.2 release.
Dual monitor support is now native and doesn't require a separate license. Add our dual display adapter to the RX300 thin client or fire up a dual monitor configuration with vSpace Pro client for Windows.
Enhanced smart card reader support: With vSpace Pro 11.2 release, vSpace Pro 11 can now supports more than 10 connected CCID-compliant smart card readers per vSpace Server for supported RX-series thin client. No additional license is required.
What endpoint devices are supported in vSpace Pro 11?
vSpace Pro 11 supports the following access devices:
L-series: L250, L300, L350
M-series: M300
MX-series: MX100
RX-series: RX300
vSpace Pro Client for Windows
vSpace Pro Client for Chromebook
What operating systems are supported by vSpace Pro 11?
vSpace Pro 11 supports over 10 popular Windows operating systems, including the latest Windows Server 2016 and Windows 10 to deliver a true desktop-like PC experience for the end user.
Please see the OS compatibility matrix for more information.
Tell me more about the Annual Maintenance Program (AMP) for vSpace Pro 11 and its benefits.
New to vSpace Pro 11 is the AMP (Annual Maintenance Program). AMP provides additional features, complimentary licenses, and live tech support.
AMP for vSpace Pro 11 includes:
Support via live chat on our website*
Phone support*
Unlimited web-based support tickets
Health Monitoring on vSpace servers and real-time alerts
Five (5) vSpace Pro Client connection licenses per customer account (minimum of 10 AMP seat licenses required)
PMC device management for RX300 thin clients
Subscriptions to AMP is based on the total number of hardware access points connected to vSpace Pro. Compliance requires 100% coverage. Enhanced feature activation applies to all vSpace Pro 11 servers in your account and is applied automatically.
*Available in North America
Is there a free trial of AMP for vSpace Pro 11?
Yes – beginning with the day you first register a vSpace Pro 11 installation, a free trial period of 30 days is automatically provided. You will receive all the AMP benefits during this period (enhanced features, complimentary licenses and enhanced support).
Can you provide more details about the enhanced features included in AMP for vSpace Pro 11?
AMP for vSpace Pro 11 unlocks the following premium features:
Health Monitoring: Monitor your Windows and vSpace resource utilization through the cloud dashboard. See key health metrics including memory usage, connected servers, CPU utilization, and active users, available for up to 30 days of historical data in 24-hour, 7-day and 30-day increments. Receive real-time alerts on excessive usage with the NComputing Health Monitor companion mobile app (android only).
Are there any limitations in the free trial of AMP for vSpace Pro 11?
The free trial period only lasts 30 days.
Your first vSpace Pro 11 installation will automatically receive trial licenses and premium features as described in the AMP documentaiton. If you install additional vSpace Pro 11 servers during the trial period, they will NOT receive the enhanced features or be able to utilize the additional licenses.
What happens when the free trial of AMP for vSpace Pro 11 expires?
If you choose not to purchase AMP for vSpace Pro after the 30-day trial has expired, all enhanced features, complimentary licenses, and live support will be automatically disabled.
The core functionality of vSpace Pro will remain, free for you to use.
If I decide not to subscribe to AMP, can I still use vSpace Pro 11?
Yes, you can continue to use vSpace Pro 11 without the enhanced features and benefits of AMP. The improved vSpace Pro core, including vCAST Streaming, dual monitor support, UXP 2.0 protocol, enhanced smart card readers support, and MultiView along with new broadcast and blank all features make upgrading from earlier vSpace versions worthwhile.
What does a subscription to AMP for vSpace Pro 11 cost?
AMP for vSpace Pro 11 pricing is based on the number of access devices connected to your account.
Simply log in to your Management Portal account, click on My vSpace Installations and then 'vSpace Pro Compliance'. This provides you with all the information you will need to determine the number of AMP seats you will need to purchase.
Is there a minimum number of seats required to subscribe to AMP for vSpace Pro 11?
No, there is no minimum. However to receive AMP for vSpace Pro 11 benefits, you must have an equivalent or greater number of AMP licenses compared to the number of devices connected to vSpace Pro 11.subscribe to 10 seats of AMP.
Do AMP enhancements apply to all vSpace Pro 11 servers connected to vSpace Manager?
As long as you have sufficient AMP seat licenses then all of your connected vSpace Servers will automatically receive the enhanced features.
How much does AMP for vSpace Pro 11 cost and where can I buy it?
AMP pricing is calculated per seat, per year. A single seat of AMP is $12 USD per year (MSRP). Pricing may differ by country.
Customers can elect to purchase from NComputing regional partners or directly from NComputing via the Management Portal.
Can I purchase vSpace Pro 11 enhanced features ala-carte?
No. Ala-carte pricing of enhanced features was only available in vSpace Pro 10.
I am currently using vSpace Pro 10. Should I migrate to vSpace Pro 11?
Yes. vSpace Pro 11 comes with many new enhancements to the core that are beneficial to customers even if they don't plan to subscribe to AMP for vSpace Pro 11. These new enhancements include vCAST Streaming support, enhanced Smart Card reader support, UXP 2.0, MultiView and its new features like broadcasting and blank all, and native dual display support, not to mention on-going bug fixes and enhancements.
We continue to try and bring the best possible experience to our customers, and encourage everyone to migrate to vSpace Pro 11.
Can I apply an update to my vSpace Pro 10 to upgrade to vSpace Pro 11?
No. vSpace Pro 11 requires a fresh install and vSpace Pro 10 must be removed first. Please read the release notes provided with the download to properly setup vSpace Pro 11.
I'm still using an older vSpace version and can't upgrade to vSpace Pro 11. What are you support options?
You can check the support status of your vSpace version on the Product Lifecycle support page.
In an effort to continue to innovate and bring the best possible features and experience to our customers, we have announced End-of-Life (EOL) for many older vSpace versions. In most cases, you still have access to product documentation and the self-help center. You can also submit a tech support ticket on a limited basis. However, there is no enhanced support option for older versions.