NComputing has rebounded from its past troubles, finishing the year with better than 12 percent growth in volume as reported by IDC
Submitted by Richard Sah on May 26, 2016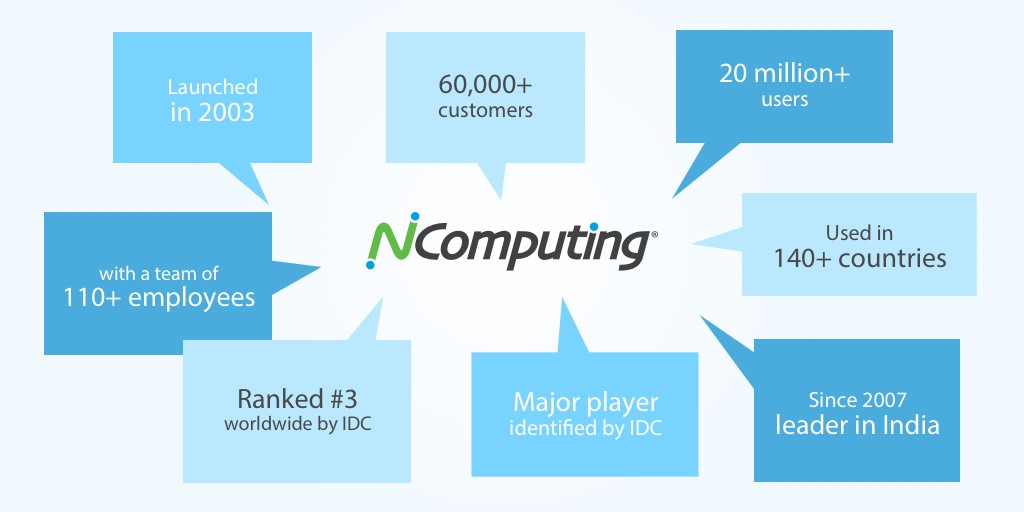 At NComputing, we are honored and excited to announce that International Data Corporation (IDC), a prominent market research company, has continued to recognize us as the #3 thin-client vendor worldwide in 2015 with a strong 12.8% year-over-year growth [1]
This underscores our commitment to continue to support NComputing's 70,000 customers and 120 million users in 140 countries. On a daily basis, 20 million users of NComputing's vSpace desktop virtualization platform regularly access Windows and Linux desktops from over 5 million NComputing thin client devices.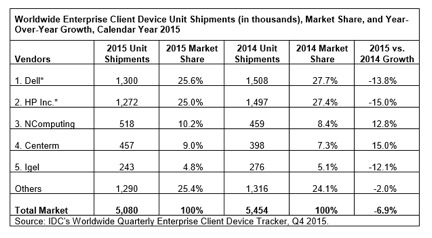 A year ago, ZeroDesktop, Inc., a leading developer of next generation Cloud Computing solutions, acquired NComputing to continue its commitment to providing affordable desktop computing solutions.
With guidance provided by the ZeroDesktop management team, NComputing has been able to inject a lot of energy in our new product lineup. The recent launch of Chromebook CX110 and vSpace Client for Chromebook is indicative of our commitment to our customers.
The addition of the Chromebook CX110 and vSpace Client for Chromebook to the NComputing product family is directly driven by the growing demand of teachers and students to continue to access important Windows applications and education content on Chromebook.
We continue to remain committed to delivering the most innovative client virtualization solutions on the market today. In the next few weeks we will be announcing new products and software updates. Watch this space for more information on latest updates and products.
[1] IDC Press Release – http://www.idc.com/getdoc.jsp?containerId=prUS41139816