What is Windows Azure Virtual Desktop (AVD)?
AVD is a comprehensive desktop and application virtualization service managed by Microsoft and hosted in the Azure cloud. It delivers simplified management with multi-session Windows 10 and Windows 11 support.
AVD is optimized for flexibility and enables organizations to deliver a virtual desktop experience and remote apps to any device.
AVD addresses a broad range of needs including business continuity and Work-From home initiatives. Organizations with the following use cases are ideal for AVD services:
Security and Regulation

Financial services
Healthcare
Government
Flexible Workforce

Mergers & Acquisitions
Short-term employees
Contractor and partner access
Call centers
Branch office or remote workers
What is Windows 365 Cloud PC ?
Windows 365 is built on Azure Virtual Desktop, but it simplifies the virtualization experience—handling all the details for you based on a predictable per-user pricing.
Windows 365 Cloud PC is optimized for simplicity. You can choose the size of the Cloud PC that best meets your needs with per user per month pricing. Organizations have two edition options that include a complete cloud-based offering with multiple Cloud PC configurations based on performance needs: Windows 365 Business and Windows 365 Enterprise. Windows 365 is idea for SMB organizations typically without a dedicated IT department.
Azure Virtual Desktop (AVD) vs. Windows 365 Cloud PC
Azure Virtual Desktop
A flexible cloud virtual desktop infrastructure (VDI) platform hosted by Microsoft that securely delivers virtual desktops and remote apps with maximum control.
Windows 10 and Windows 11 personalized and multi-session desktops and remote app streaming
Full control over management and deployment
Flexible consumption-based pricing
Windows 365
A complete software-as-service (SaaS) solution provided by Microsoft that securely streams your personalized Windows experience – all your apps, content and settings - to any device
Windows 10 and Windows 11 personalized desktops
Management and deployment with familiar desktop tools and skills
Predictable per-user pricing
NComputing LEAF OS and RX-series endpoints are best-in-class solutions for AVD and Windows 365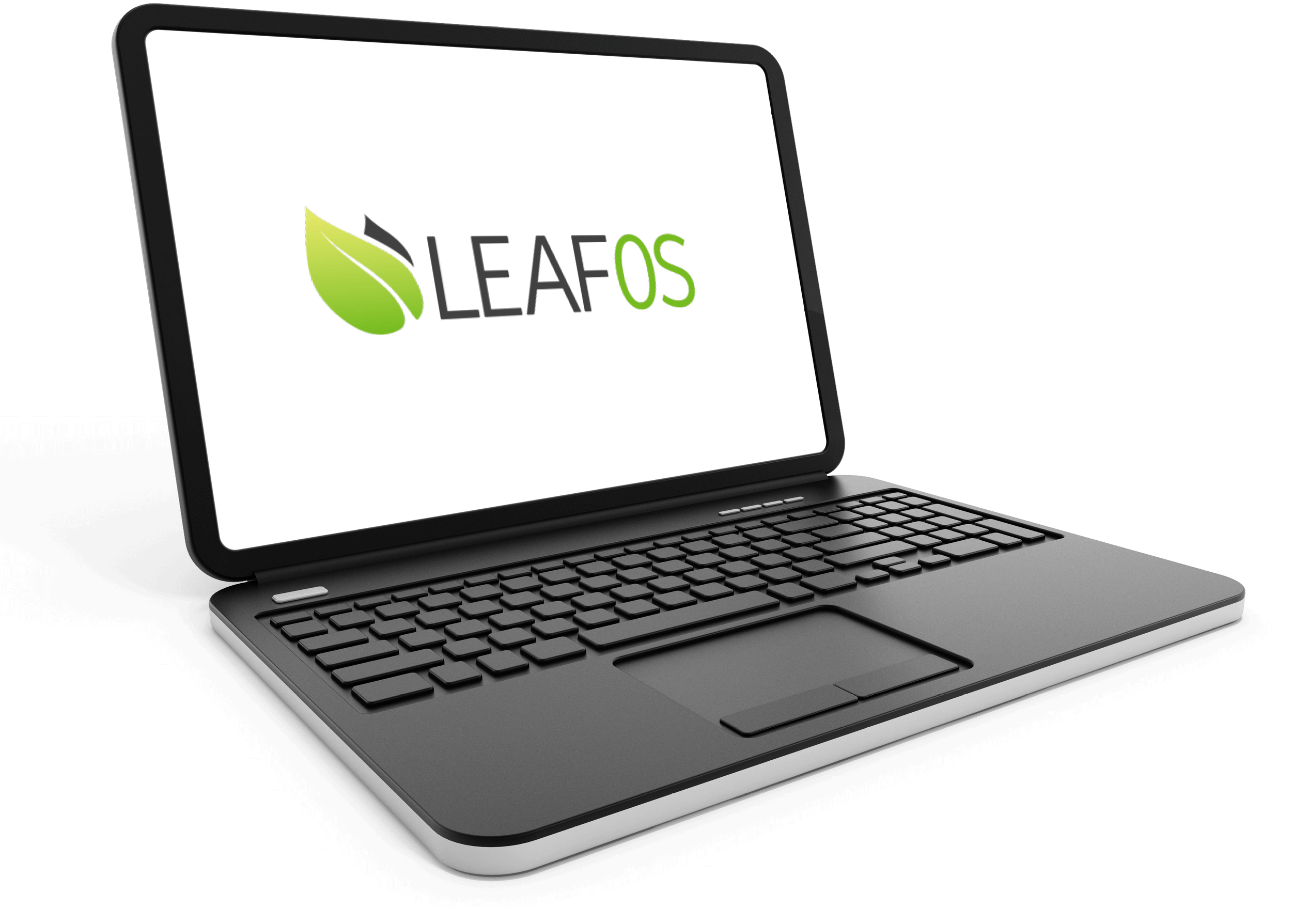 LEAF OS
LEAF OS by NComputing is a small Linux-based operating system. It enables users to access AVD and WIndows 365 using their personal computers, including out-of-date x86-64 PCs and laptops. Deployable in two different configurations, LEAF OS gives you both permanent and temporary access. First, it can be installed directly on a hard drive converting the host computer into a powerful thin client. Alternatively LEAF OS can be run from a USB drive. For more information have a look at the LEAF OS page.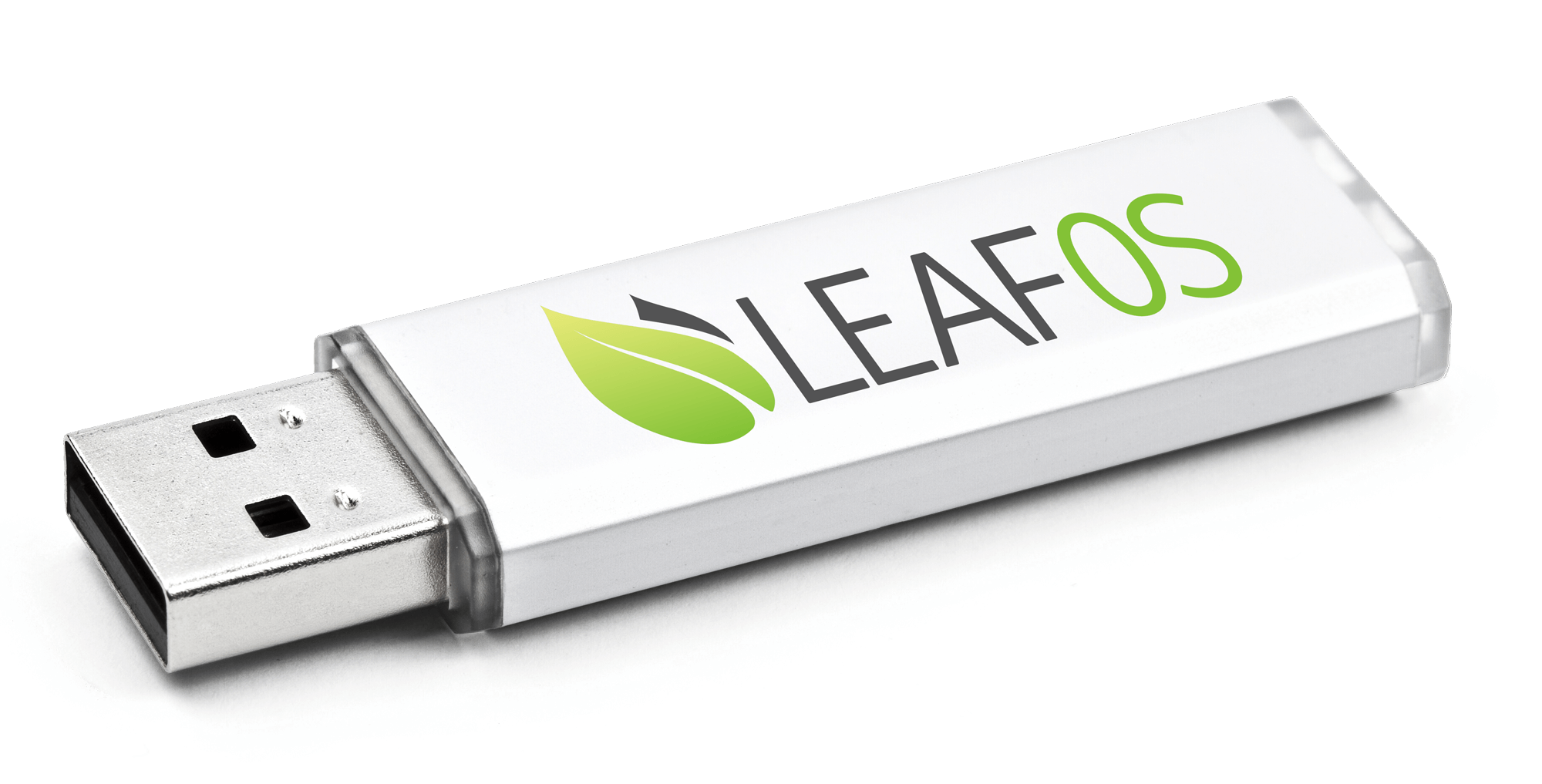 NComputing delivers secure, affordable, and high-performance endpoint solutions designed for AVD and WIndows 365, powered by Raspberry Pi.
The RX-series thin clients, powered by the latest Raspberry Pi 4, delivers a rich PC-like experience in a tiny, energy-saving device. The simple-to-deploy and centrally managed cloud-ready thin clients extend the affordability of AVD and Windows 365 deployments.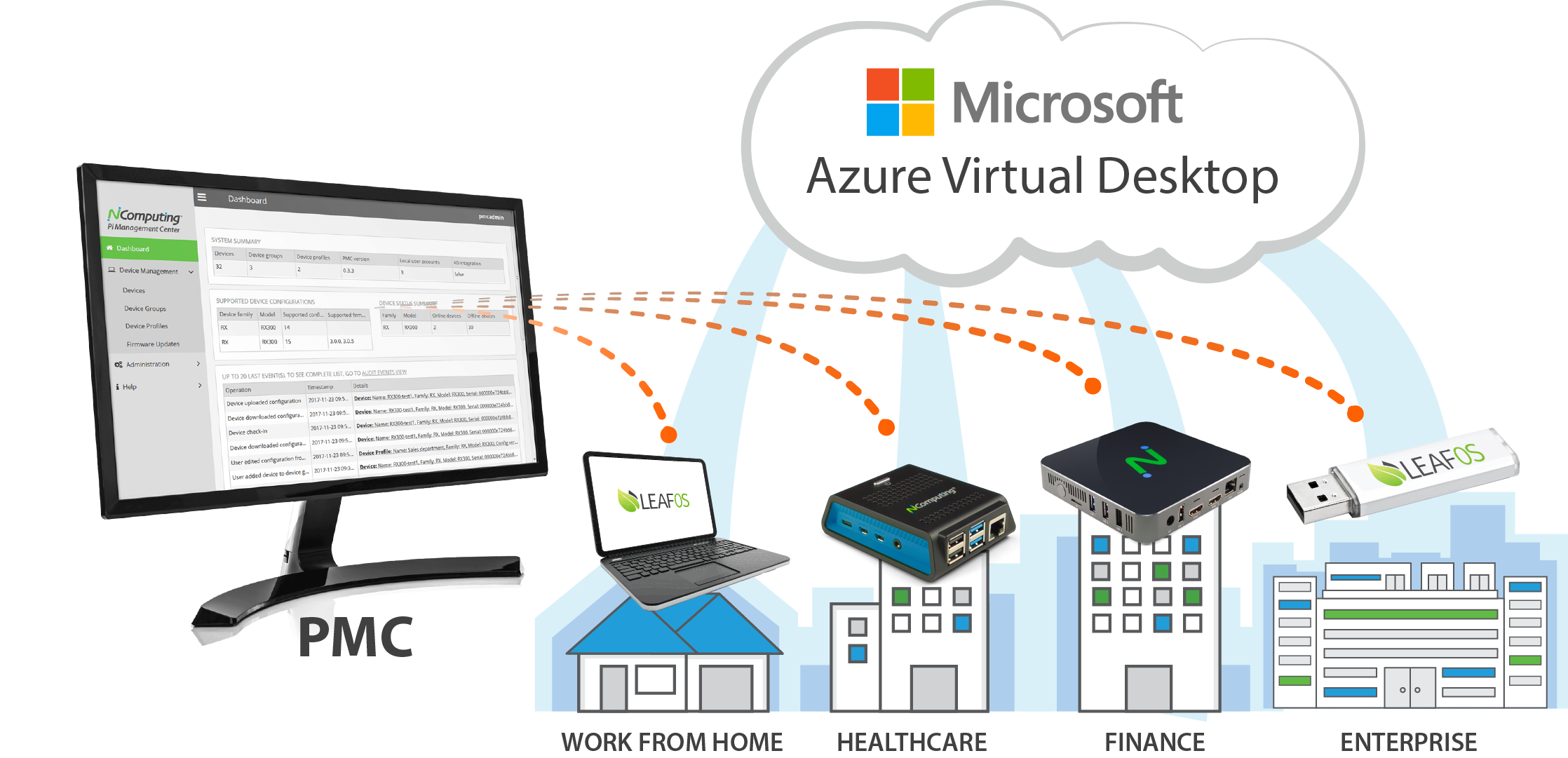 Whether you need dual-display support or just a single display, access to AVD and Windows 365 is simple and straight-forward. Mounted to the back of a display, or sitting on a desk or table, the RX-series thin clients' small foot-print allows flexible deployments in cramped quarters, manufacturing or point-of-sale locations, and other use cases like work-from-home.
THE BENEFITS OF USING NCOMPUTING THIN CLIENT SOLUTIONS FOR AVD AND WINDOWS 365
Verified AVD Solution
NComputing is an official Microsoft AVD and WIndows 365 partner for integrated Linux thin client solutions verified by Microsoft and powered by Raspberry Pi. Our optimized and verified thin clients raise the bar. More information on our compatible products is available on the Azure Marketplace.
Simple, Powerful, Affordable
NComputing has 20 years of expertise in desktop virtualization and we are the worldwide leading provider of Linux thin client solutions. We've been using ARM-based devices as the basis for our most recent thin clients. The Raspberry Pi 4 brings premium performance characteristics and native dual display support to remote computing. Optimized for Microsoft AVD, Windows 365 and Microsoft RDS, the RX420(RDP) thin client in particular offers a rich PC-like experience in an affordable, energy-saving device that literally fits in the palm of your hand.
More Secure
The LEAF OS software endpoint solution and RX-series thin clients are built based on a read-only, minimally sized Linux platform. Only the required thin client functionality is locally loaded. The fully locked-down Linux platform is secure, protecting users against 3rd party applications and common threats.
Lower total cost of ownership
LEAF OS and RX-series thin clients lower the overall cost of ownership needed to adopt AVD and Windows 365. LEAF OS software endpoint delivers a secure workspace for working-from-home devices and extends the life of aging PCs & laptops by repurposing them into high-performing Linux endpoints. For organizations looking to refresh or acquire new endpoint devices, RX-series thin clients are a fraction of the cost compared to traditional PCs and laptops and deliver a PC-like performance. Centralized device management, minimal moving parts, and no local data concerns help slash ongoing device maintenance and security expenses.
Broad USB peripheral compactibility
With integrated transparent USB redirection, LEAF OS, RX420(RDP) and RX-RDP+ utilize device drivers from the server side to provide extensive peripheral support including webcams (video conferencing), printers, mass storage, smart card readers & security keys, and audio devices.
Endpoints for Microsoft AVD
Ready to get started? Let's go.
If you have questions about our products and services, and wish to speak with an NComputing representative, please complete this form and we will contact you shortly.
FAQ
WHAT IS MICROSOFT AZURE VIRTUAL DESKTOP (AVD)?
Who can benefit from AVD?
How do NComputing endpoints integrate and support AVD?
Is NComputing's AVD solution verified by Microsoft?
Which NComputing endpoints support Microsoft Microsoft Azure Virtual Desktop (AVD)?
Where can I find firmware that supports the AVD feature?
Which Microsoft AVD releases are supported?
How do I connect to AVD with NComputing endpoints?
Is multi-factor authentication (MFA) supported?
What USB peripheral devices are supported in AVD?
Can I access RemoteApp and Remote Desktops in AVD?
Videos
Access Azure Virtual Desktop (AVD) from RX420(RDP)
RX420 (RDP) for Microsoft Azure Virtual Desktop
Basic Setup for the RX420(RDP)
Success Stories
For the City of Glasgow College, NComputing has networked around 1,300 thin clients with a new lean operating system, equipped them with PMC remote maintenance software, and helped them transition from Citrix to Azure Virtual Desktop (AVD) from Microsoft. The new cloud-based infrastructure has extended the life of the college's...
Read more
Pages