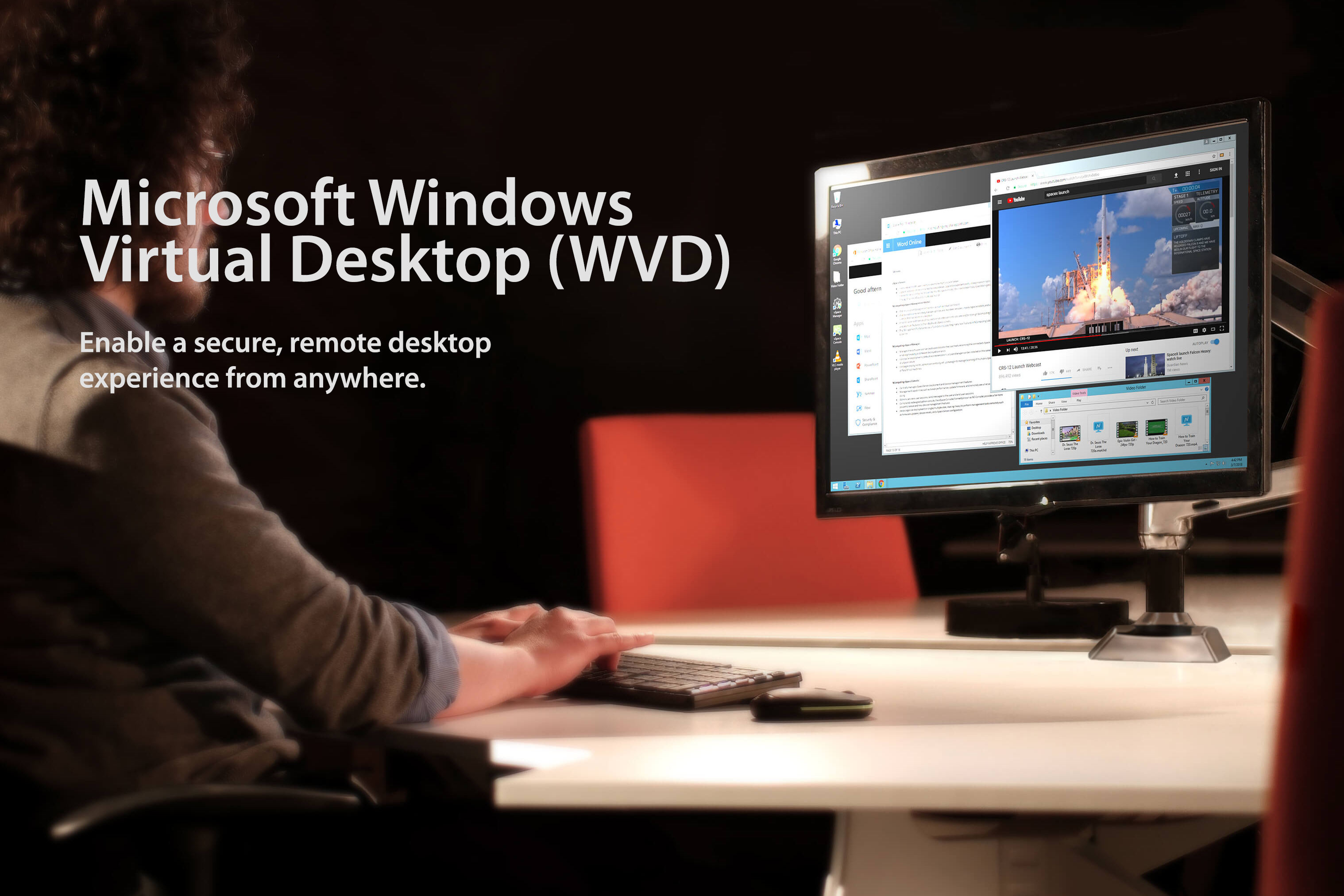 Microsoft Windows Virtual Desktop (WVD) has experienced significant market demand in part due to organizations that are challenged to find secure remote working solutions for their employees and contractors quickly. NComputing teamed up with Microsoft to integrate the native Windows Virtual Desktop (WVD) Linux client into our popular RX420(RDP) and RX-RDP+ thin clients powered by the latest Raspberry Pi platforms.
What is WVD?
WVD is a comprehensive desktop and application virtualization service managed by Microsoft and hosted in the Azure cloud. WVD delivers simplified management with multi-session Windows 10 support.
WVD enables organizations to deliver a virtual desktop experience and remote apps to any device. Microsoft 365 and Azure together provide users with the only multi-session Windows 10 experience — with scale and reduced IT costs. Deployments of Windows 7 are also possible. Its big draw from an IT perspective is the unified management for those migrating from Remote Desktop Services and on-premise Windows Servers.
Where is WVD used?
WVD addresses a broad range of needs including business continuity and Work-From home initiatives. Organizations with the following use cases are ideal for WVD services:
Security and Regulation – such as financial services, healthcare, government
Flexible Workforce – such as mergers & acquisitions, short-term employees, contractor and partner access, call centers, branch office or remote workers
How does NComputing RX-series thin client support WVD?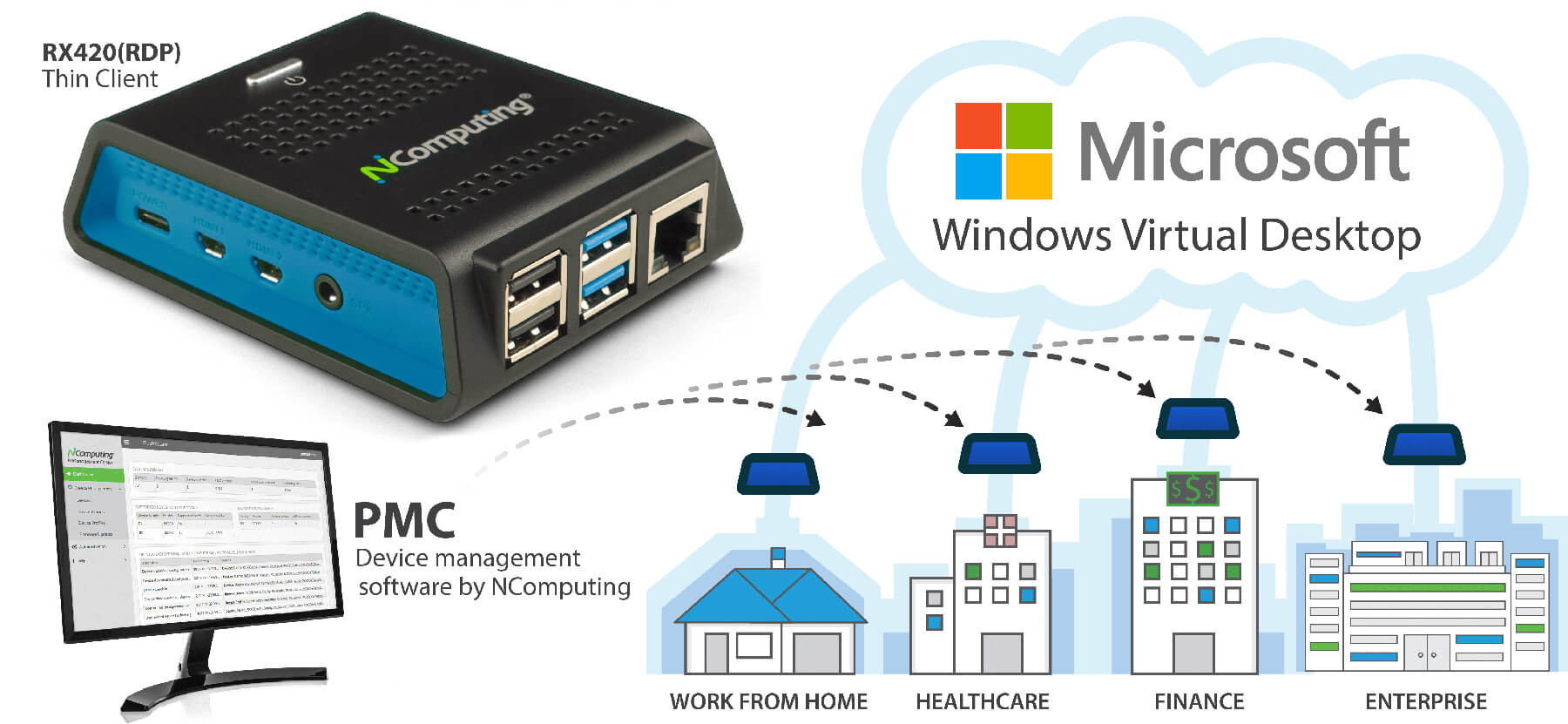 NComputing is excited to announce our native WVD Linux client support on our popular RX420(RDP) and RX-RDP+ thin clients, and also as an approved WVD technology partner.
The WVD integrated thin clients deliver an easy-to-use, secure, high-performance, and affordable WVD endpoint solution.
The simple-to-deploy and centrally managed cloud-ready thin clients extend the affordability of WVD deployment.
"We see tremendous demand for Windows Virtual Desktop. The NComputing RX-series provides customers with a secure, affordable, high-performing solution for Windows Virtual Desktop," said Kam VedBrat, general manager, Windows Virtual Desktop, Microsoft Corp.
The RX-series thin clients support WVD Spring 2020 and Fall 2019 releases, access to Remote App and Remote Desktops, multi-factor- authentications, standard and kiosk mode WVD login, and native dual display support.
Benefits of using NComputing RX-series Endpoint Solutions for WVD:
VERIFIED WVD SOLUTION: NComputing is an official WVD partner for integrated Linux thin client solutions verified by Microsoft, powered by the latest Raspberry Pi platforms. NComputing has 17 years of expertise in desktop virtualization, and we are the worldwide leading provider of Linux thin client solutions.
SIMPLE, POWERFUL, AFFORDABLE: Premium performance characteristics optimized for Windows WVD and Microsoft RDS, RX-series endpoints offer a rich PC-like experience in an affordable, energy-saving device that fits in the palm of your hand.
MORE SECURE: The RX-series thin clients run on a read-only, minimally sized Linux platform. Only the thin client functionality is locally loaded, leaving the desktop and data on the server. The fully locked-down Linux platform is secure, protecting users against 3rd party applications and common threats.
LOWER TOTAL COST OF OWNERSHIP: The RX-series thin clients lower the overall cost of ownership needed to adopt WVD. For organizations looking to refresh or acquire new endpoint devices, RX-series thin clients are a fraction of the typical PC or laptop cost and deliver similar performance. Centralized device management, minimal moving parts, and no local data concerns help slash ongoing device maintenance and security expenses.
WVD support was added to RX420(RDP) and RX-RDP+ thin clients via firmware update 1.10.10 in October.
Learn more about how NComputing enables end users to access Windows 10 desktop in the Cloud via our WVD page.