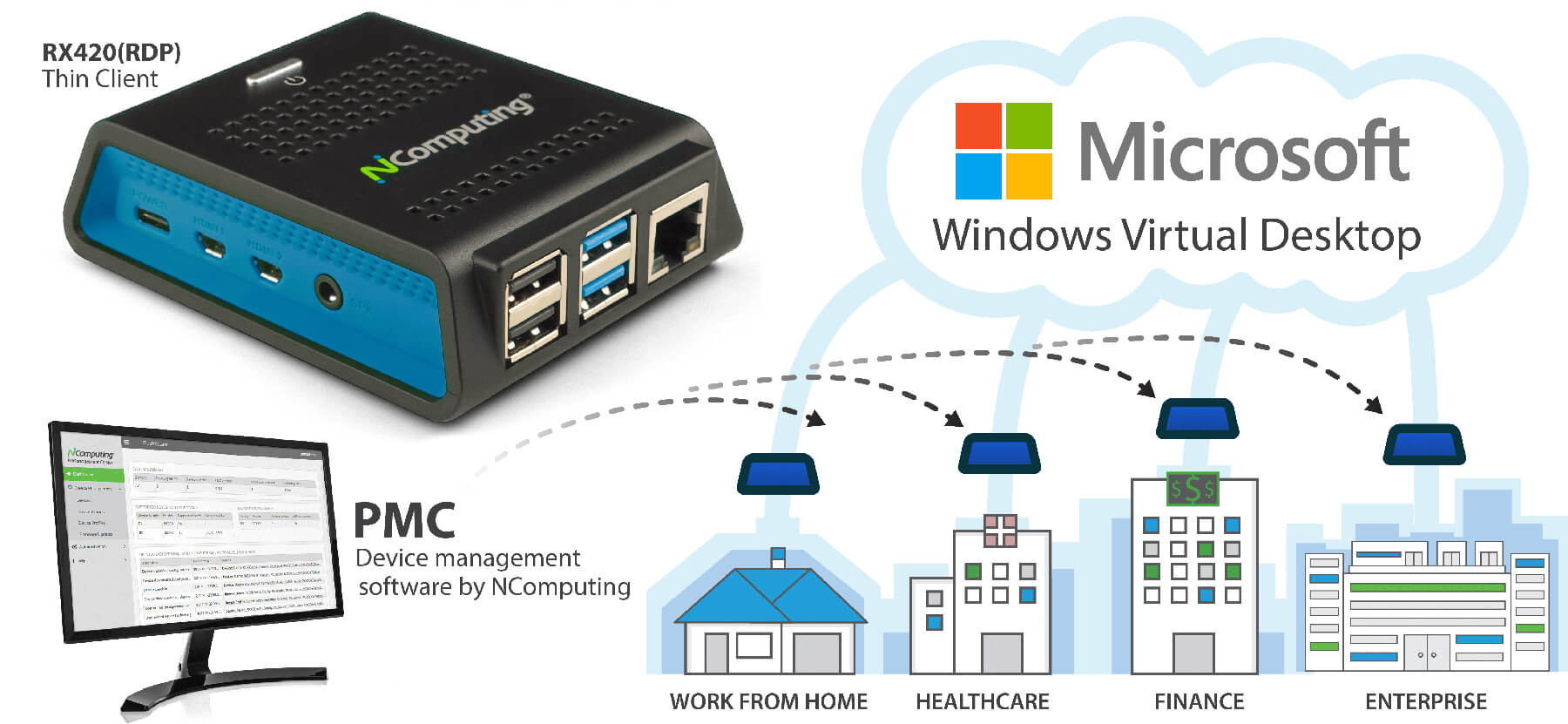 NComputing is happy to announce our status as an official Windows Virtual Desktop partner for integrated Linux thin client solutions, verified by Microsoft.
As computing needs continue to move to the cloud, how we interact with systems and applications continues to evolve as well. If powerful servers are running everything for you, gone is the need for the typical PC hardware and its issues. Windows Virtual Desktop is changing how we access virtual desktops, allowing multiple-sessions of Windows 10 directly from the cloud with Azure. Windows Virtual Desktop also enables IT to provide deployments of Windows 7, and migration from existing Remote Desktop Services and on-premise Windows Server deployments to Azure offers unified management of the installation.
But you still need some way to connect a keyboard, mouse, and display to the cloud to do meaningful work. The RX-series thin clients fill this need and extend the affordability of Windows Virtual Desktop adoption by lowering the total cost of ownership. Our solutions are affordable and built to satisfy the high-performance demands of today's users.
Whether you need dual-display support with the RX420(RDP) or just a single display with the RX-RDP+, access to Windows Virtual Desktop is simple and straight-forward. Mounted to the back of a display, or sitting on a desk or table, the RX-series' small foot-print allows flexible deployments in cramped quarters, manufacturing or point-of-sale locations, and other use cases like work-from-home. Dual-band WiFi & gigabit ethernet connections deliver a rich PC-like experience in a tiny, energy-saving device.
Deployment and ongoing maintenance get refined and simplified with centralized device management. RX-series devices are highly secure, built on a locked-down Linux platform, protecting against malware and viruses. Windows Virtual Desktop simplifies computing. RX-series thin clients eliminate many of the issues surrounding typical hardware deployments including data security, component failure, and energy consumption.
WVD support has been added to the RX420(RDP) and RX-RDP+ devices. Existing users can update their firmware to version 1.10.10 (or newer). Learn more about our WVD support.