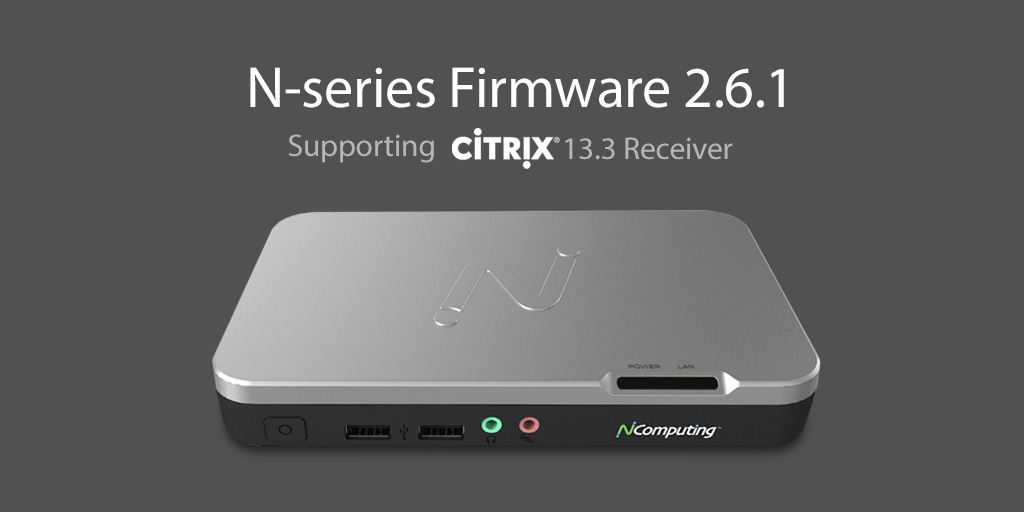 We are very pleased to announce the new release of N-series firmware, which supports Citrix 13.3 receiver for the N500W, N500 and N400 devices.
This is our second release of N-series firmware for 2016 and through the year we plan to continue to enhance, innovate and improve our support for the N-series product line with new features and product enhancements.
The new N-series 2.6.1 firmware release incorporates an update to include Citrix Receiver 13.3, StoreFront support with NetScaler Gateway together with many other quality improvements.
A summary of the release is provided below, full details can be found in the release note (see below):
N-series device compatibility:
N-series firmware 2.6.1 is compatible with the following N-Series devices:
vSpace Management Center compatibility:
N-series 2.6.1 firmware is compatible with VMC 3.7.17
Citrix compatibility:
N-series firmware 2.6.1 supports the following Citrix environments:
XenDesktop 5.6
XenApp 6.5
XenDesktop 7.1 (Server and Desktop OS VDA)
XenApp 7.5, 7.6, 7.7 and 7.8 (Server OS VDA)
XenDesktop 7.5, 7.6, 7.7 and 7.8 (Desktop OS VDA)
StoreFront 2.6 and 3.0 (including connections through NetScaler Gateway)
Web Interface 5.4 (Services Site)
VDI-in-a-box 5.0, 5.1 and 5.2
The releases have been posted for download from the NComputing web site at https://www.ncomputing.com/support/software and are available now for customers to download as required.
Full details of these releases are documented in the respective release notes:
About NComputing N-series thin client solution:
For organizations looking to broaden their commitment to Citrix XenDesktop, XenApp or StoreFront, the NComputing N-series thin clients for Citrix HDX deliver 100% of the HDX experience at a fraction of the cost of PCs or other thin clients. NComputing next-generation thin clients are optimized for HDX and powered by the Numo™ 3 System-on-Chip, which delivers a high performance client supporting HD video sessions using less than 5 watts of power. With full manageability, support, and at low cost, enterprise organizations can now cost-effectively extend their Citrix deployments to more users, allowing them to gain fuller access to the many benefits of desktop virtualization.