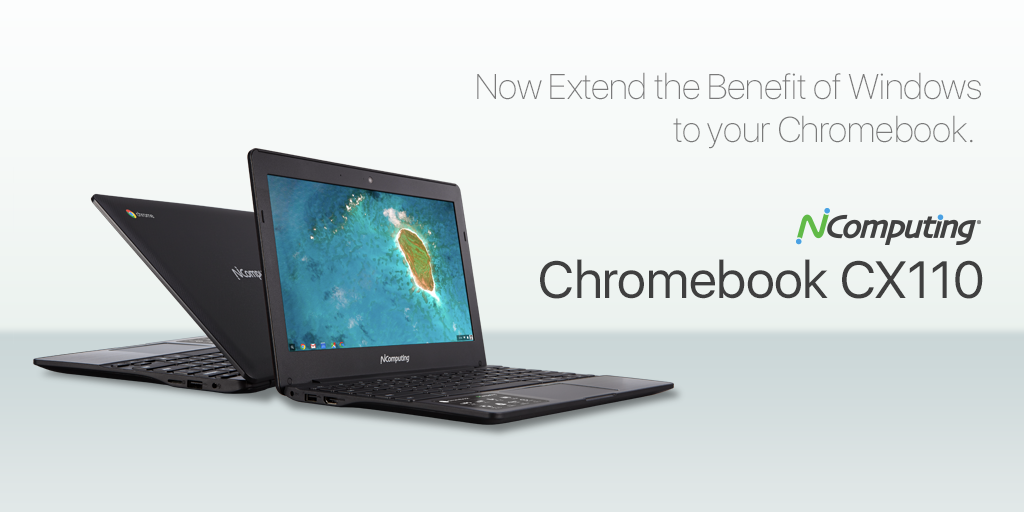 We are extremely excited to launch our Chromebook CX110 and Chrome app today, giving you the ability to run Windows applications smoothly on your Chromebook.
According to IDC, the adoption of Chromebooks in K-12 schools in the U.S has risen significantly. Chromebook unit sales increased more than 310 percent in 2014 compared to 2013. In the third quarter of 2015, Chromebook sales surpassed 51 percent in the K–12 market, surpassing other devices like Microsoft Windows-PCs and Apple iPads and Macs.
While Chromebook has been the growing choice for schools due to many benefits, including lower costs, reduced complexity and improved compliance, there has been a significant gap. We've been hearing from you that many schools still require easy access to important Windows, Java or Silverlight applications for learning and testing. To be better prepared for real world challenges, students also need to be familiar with Microsoft Windows and Microsoft Office applications.
At NComputing, our goal is to deliver a simple, robust and affordable solution to provide stress-free desktop computing for both Google and Windows applications all from the same NComputing Chromebook device.
Combined with vSpace Client for Chromebook (1-year license included) and vSpace Server software, 'virtual' Windows desktops can be delivered to tens or hundreds of NComputing Chromebooks all from centrally managed host computers running vSpace Server software; a powerful, affordable solution that is simple to use while being easy to deploy and manage for IT admins.
With built-in virus protection, regular automated updates and simplified compliance with COPPA (Children Online Privacy Protection Act) the NComputing Chromebook allows the IT admin to spend less time managing security.
We have also carefully selected the premium non-glare IPS LCD display to provide the best Chromebook viewing experience for students in the classroom - no more strained eyes trying to read, or differentiate colors and features on an inferior display.
As well as the 1-year vSpace Client for Chromebook software license, the NComputing Chromebook also comes bundled with a complimentary 1-year subscription to premium Brightstorm.com education education content that provides over 6000 HD education videos. With a combined retail value of $229, these complementary software products provide tremendous value and an immediate return on investment for NComputing Chromebook purchases.
The introduction of the NComputing Chromebook CX110 adds to our existing portfolio of products, and meets the growing demand for Chromebook support from our existing vSpace customer base in US schools of over one million users. Our vSpace customers now benefit from being able to extend the reach of Windows to NComputing Chromebook CX110s.
The NComputing Chromebook CX110 is available for the North American education market through authorized NComputing resellers, including a one-year license for vSpace Client for Chromebook and a one-year subscripton to education content from Brightstorm.com.
NComputing will begin accepting pre-orders on May 12 with product availability in June.
Please visit ncomputing.com/chromebook for more details.