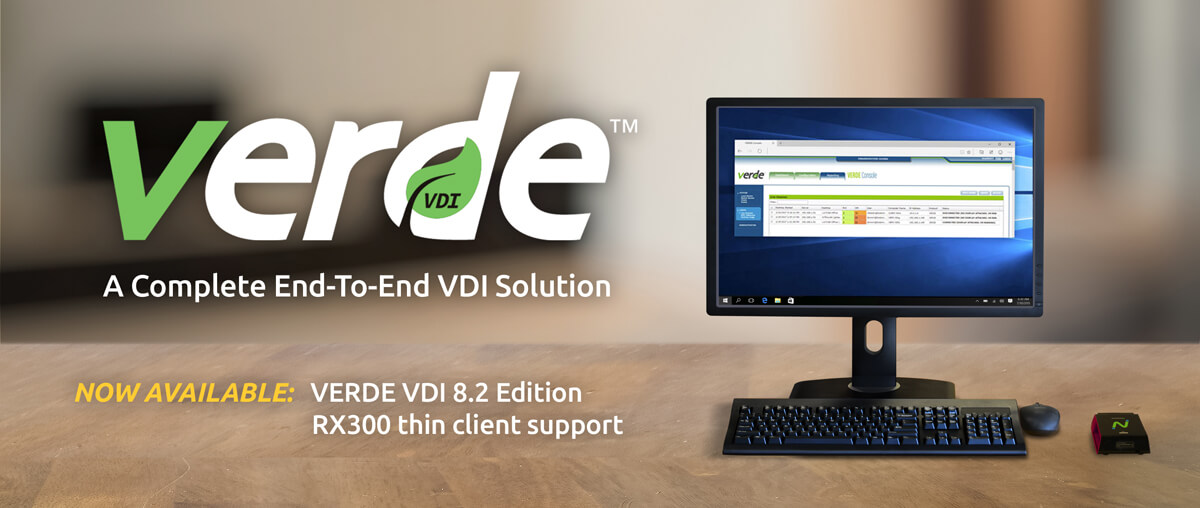 VERDE-VDI is a purpose-built desktop virtualization platform designed for small & medium enterprises and managed service providers. VERDE VDI delivers enterprise-level functionality without the complexity at an affordable price.
We have made significant upgrades to the VERDE VDI 8.2 Edition:
Support for latest Red Hat / CentOS QEMU-KVM modules for increased performance and hardware emulation capabilities.
General stability and functionality enhancements and performance optimizations.
Support for NComputing's RX300 thin client device and our proprietary UXP protocol which brings many new benefits to VERDE VDI customers. vCAST Streaming reduces server-side CPU usage when users watch web videos like YouTube or local media content (via VLC Player and Windows Media Player) without the need for expensive GPUs. This technology results in higher quality video streaming without CPU bottlenecks, allowing for more concurrent users on your system.
Cloud branch support with local LAN access for optimum desktop performance.
Integrated with a more flexible licensing management service that provides greater control of where seat licenses should be used and the ability to move seat licenses between multiple instances of VERDE within a registered user's infrastructure.
Support for NComputing's Pi Management Console ("PMC") providing remote management of any connected RX300 thin client. Dual monitor support is enabled using our secondary display adapter.
Managed Service Provider (MSP) ready with full multi-tenant isolation.
Flexible deployment options for Customers and MSPs using IBM Bluemix.
NComputing's VERDE VDI 8.2 Edition provides a compelling alternative for first-time customers whose organizations are looking for a change to a more cost-effective solution. For MSP providers, VERDE VDI 8.2 Edition provides a path to offer DaaS.
We are excited to add VERDE VDI 8.2 Edition to our portfolio to provide end-to-end desktop virtualization solutions to our customers.
A 30-day, 10-seat trial is available for VERDE VDI 8.2 Edition. Click here to request a trial or visit the VERDE VDI product page.