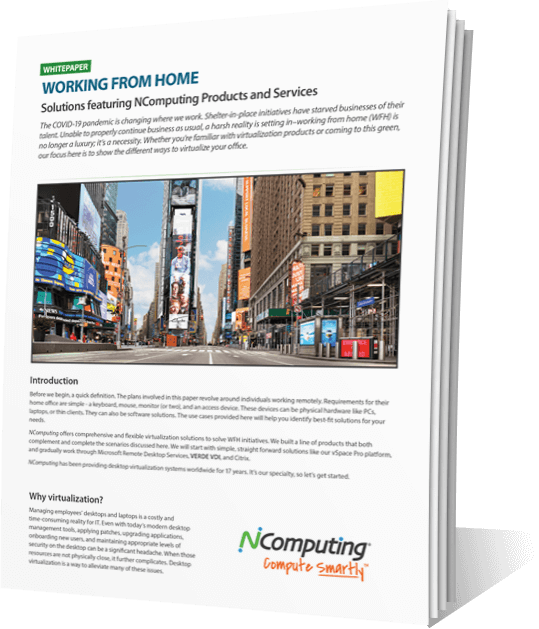 Working From Home
No longer a luxury–it's a necessity. See how virtualization is making WFH initiatives an easy extension of the workplace. This whitepaper contains 14 scenarios, use cases and diagrams covering platforms from NComputing, Microsoft and Citrix.
Business Continuity in the age of Covid-19
Keeping your business up and running virtually is the challenge of our time. How do you manage your computing needs when nobody is centralized? Desktop virtualization has been our focus for nearly 20 years and we'd like to help you make the change.
Employees with laptops outside the office already pose challenges to business continuity - lost or damaged equipment and data insecurity among the top concerns. Desktop virtualization looks to solve these issues by making data and hardware independent and secure.
There are two primary methods of desktop virtualization: Server-Based Computing (SBC) and Virtual Desktop Infrastructure (VDI).
Server-Based Computing platforms

Users share one virtualized server desktop environment in the form of individual terminal sessions instead of separate operating environments. This shared virtual desktop environment can run on servers in a central data center or on a physical PC in a workgroup, call center, or classroom.
Multiple users share a single OS.
Applications are on that single OS instance.
Terminal session-based user isolation.
Ideal for users with similar needs.
Virtual Desktop Infrastructure

User's operating systems run in virtual machines (VM), decoupling it from the PC host hardware. Multiple VMs run on servers in a central datacenter, isolating user desktop environments from the physical device, enabling access to the virtual desktop from any PC, laptop, or thin client.
Each user has a personal OS (VM).
Applications are on the individual OS (VM).
VM-based user isolation.
Great solution for users with varying needs.
Benefits of our WFH solutions
Benefits for end-users
Business continuity and disaster recovery:
Enabling rapid resolution of hardware failures and eliminating location requirements
Hardware independence:
Dedicated thin clients, repurposed PC/laptops or software client solutions provide flexible and secure remote access from anywhere.
Increased flexibility and mobility:
Access apps and virtual desktops from anywhere using various devices such as thin clients and home PCs without compromising performance.
Benefits for IT
Ease of deployment and management:
Easily manage virtual desktops from a central location and quickly provision them to users as-needed, eliminating the need for IT to manage each user device independently.
Cost reduction:
IT can save on hardware costs by using lower-cost thin clients with desktop virtualization instead of traditional PCs. Thin clients also consume less energy and require less maintenance, providing further savings on operational expenses.
Enhanced security:
Sensitive business data remains in the data center instead of being stored locally on end-user computers.
Data protection:
Since data is not locally stored, in case of any disaster data is quickly recoverable, improving uptime and the reliability of the system.
vSpace Pro is an end-to-end virtualization solution delivering Windows desktops to users. All data storage and computing tasks occur on servers, not local computers, but the experience from the user's standpoint is the same. Here, you're getting PC-like performance from server-based computing (SBC). vSpace Pro is a session virtualization system. Each user gets their workspace, and all workspaces from the server have the same operating system and applications. This platform supports 11 popular Windows operating systems for use with NComputing thin clients, Chromebooks, and PCs running our LEAF OS software solution. Every platform needs a protocol to work on, and vSpace Pro uses the proprietary UXP protocol for all traffic. vSpace Pro delivers a turnkey solution to manage all your user sessions and devices centrally. These services can exist on-premise or in the cloud.
Azure Virtual Desktop (AVD) is a comprehensive desktop and application virtualization service managed by Microsoft and hosted in the Azure cloud. It delivers simplified management with multi-session Windows 10 support.
AVD enables organizations to deliver a virtual desktop experience and remote apps to any device. Microsoft 365 and Azure together provide users with the only multi-session Windows 10 experience — with scale and reduced IT costs.
AVD addresses a broad range of needs including business continuity and Work-From home initiatives.
NComputing is an official Microsoft AVD partner for integrated Linux endpoint solutions including LEAFOS software endpoint and RX-series thin client solutions powered by Raspberry Pi. Our optimized and verified WVD endpoint solutions raise the bar.
Remote Desktop Services (RDS) is a virtualization platform that serves sessions of individual applications or desktops. These services are either hosted on-premise or in the cloud.
For our part, we provide thin clients for end-users and the software to manage them. These small devices provide the hub for your peripheral connections - keyboard, mouse, monitors, and network/internet. They are designed and optimized specifically for Microsoft RDP and include support for Microsoft RD Gateway, Remote App and Desktop, Remote FX, and VPN connections. RDS works on the RDP protocol.
We've also addressed the sub-standard multimedia performance of the standard RDS deployment through a server software package called SuperRDP, allowing for the improved streaming performance of HD video locally or from the web.
VERDE VDI is purpose-built from the ground up on a secure Linux foundation. It connects to a wide range of endpoint devices, including PCs, thin clients, software clients, and HTML5-enabled browsers providing Windows or Linux desktops to users. Supported protocols include UXP, RDP, and SPICE. VERDE VDI is a secure, easy-to-use, enterprise-grade virtual desktop infrastructure. It offers three important capability pillars: Windows and Linux clients are equal citizens. WAN latency is eliminated by decentralizing VDI processing to the edge of your organization. It spans the end-user computing fabric from on-premise to cloud-hosted, or hybrid using our unique Cloud Branch technology. Prevention of malware, virus attacks, data leakage, and unauthorized access to the internal network are all cornerstones of VERDE VDI security protocols. In addition, all traffic is encrypted.
Citrix provides server, application and desktop virtualization, networking, software as a service (SaaS), and cloud computing technologies. NComputing has designed access devices optimized for Citrix HDX. They meet the performance, security, and manageability necessary for demanding Citrix users. NComputing is a founding partner in the Citrix Ready Workspace Hub program aimed at accelerating workplace transformation and solving innovative use cases around enterprise IoT.