Maintaining older PCs is fraught with challenges that are especially difficult on a school's budget and limited resources. From hardware components and processing power, to updating the latest applications and security—it's a constant and expensive game of catch up. And the rapid rate of technological change will make newer PCs obsolete even sooner than the last ones.
Read this white paper to learn how replacing aging PCs at students' desks with thin clients can enable you to:
Lower both acquisition and ongoing costs
Reduce power consumption, generated heat and noise
Simplify maintenance, upgrades and troubleshooting
Thumbnail: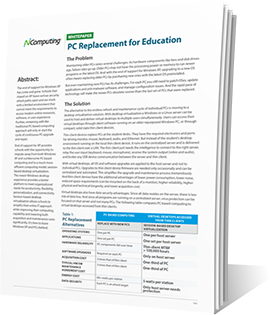 Short Description:
Older PCs have higher failure rates, and may not support the latest OS and applications you need. But even new PCs have labor intensive maintenance due to software updates, and malware and configuration issues. PC replacement is an opportunity to say goodbye to these issues by using thin clients and session based desktop virtualization.
Google Analytics/File name:
White-paper_PC-Replacement-for-Education_(EN)_392425