vSpace Management Center for the N-series
Enterprise-Class Management
For organizations deploying the NComputing N-series thin clients for Citrix HDX, vSpace Management Center provides a highly scalable, flexible and easy to use single point of device management. With its web-based console, IT administrators can manage their N-series devices from anywhere, anytime. vSpace Management Center helps organize a deployment whether it is a single site or multiple sites – and makes it easy to perform management tasks remotely including firmware updates, configuration changes, device resets and more. By allowing administrators to access and manage all N-series devices from a single location, regardless of the size or number of deployment sites, vSpace Management Center dramatically reduces the administrative overhead needed to maintain and control their environment.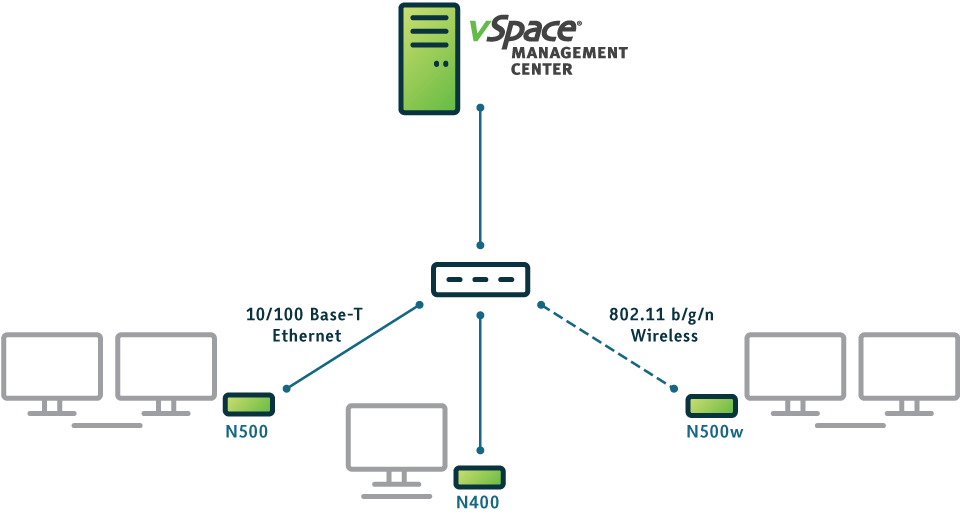 vMC Benefits
Comprehensive: flexible, web-based management tool for the NComputing N-series environment.
Centralized: access an entire N-series deployment from a single console.
Scalable: manage 100, 1000 or 10,000 devices across multiple networks and locations.
Simple: easy to install and use with flexible web-based user interface.
Feature
Supported Devices
N400, N500, N500w
Single or group device management
Push settings to manage an individual device (1:1) or use profiles for group management (1:many)
Profile-based configuration
Assign devices to common profiles for scalable management of device settings
Encrypted Management
All management communication conducted between vSpace Management Center and N-series thin clients is fully encrypted using the SSL standard.
Easy firmware updates
The firmware update wizard simplifies device updates and scheduling
Simple status
Central dashboard with logging and group views enables rapid assessment of your environment's status
Consolidated install
Install the complete vSpace Management Center via one installer in under 10 minutes
Comprehensive logging
System events are continually logged to aid in troubleshooting and to confirm actions
Delegated administration
Supports two levels of maangement for "view-only" and "edit-capable" access and can be easily configured via Active Directory/LDAP
Management zone redundancy
Deploy multiple servers to manage the same group of devices: mirror the device data for maximum management protection
Sign up for your free trial.