At Citrix Synergy 2012 in Barcelona we showcased our complete line of N-series products, developed in collaboration with Citrix for their HDX Ready System-on-Chip program. On this page you can access and download all the content and assets that NComputing created for the show.
Videos: Demonstrations and Overview
To get a flavour of NComputing, our N-Series solutions and our activities at Citrix Synergy 2012 there are two videos for you to view. The first one walks you through each of the N-series vertical market demonstrations that we showcased at Synergy and the second provides you with an overview of all our Synergy activities.
The NComputing booth at Synergy Barcelona 2012 featured several interactive, hands-on examples of N-series HDX Ready SoC thin client devices being used in typical real world and vertical industry specific situations with Citrix XenApp/XenDesktop and VDI-in-a-Box environments.
NComputing presented live in-depth technical and business-focused sessions featuring our leading experts. These brief and impactful talks addressed a range of topics including how NComputing's innovative design and use of HDX System on a Chip technology is transforming the thin client industry to optimize Citrix environments for all kinds of users, and featured examples of customers who have already selected and deployed these next-generation devices.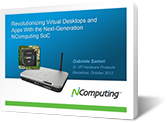 Revolutionizing Virtual Desktops and Apps with the Next Generation NComputing SoC
NComputing's System-on-Chip technology design guru Gabriele Sartori explains how SoC-based endpoint solutions have evolved, what they are capable of providing today and where they may be headed in the future.

File type: PPT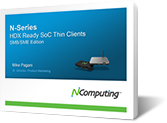 N-series for Small and Medium Businesses: HDX Ready SoC Thin Clients from NComputing - Built for Citrix. Ready for Anything
Advancement in System-on-Chip (SoC) technology is fostering a whole new breed of high performance, yet extremely affordable thin client devices that not only deliver an outstanding Citrix HDX user experience, but are also easy to deploy and manage. Virtual desktop expert Mike Pagani explains why Citrix challenged the industry to create a specialized SoC-driven thin client solution for HDX, the unique capabilities of the resulting N-series line of devices and demonstrates live the plug and play value that Citrix SMB/SME customers can take advantage of in their VDI-in-a Box or XenApp/XenDesktop environments.

File type: PPT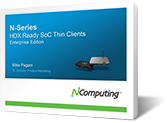 N-series for the Enterprise: HDX Ready SoC Thin Clients from NComputing - Built for Citrix. Ready for Anything
Advancement in System-on-Chip (SoC) technology is fostering a whole new breed of high performance, yet extremely affordable thin client devices that not only deliver an outstanding Citrix HDX user experience, but are also easy to deploy and manage. Virtual desktop expert Mike Pagani explains why Citrix challenged the industry to create a specialized SoC-driven thin client solution for HDX, the unique capabilities of the resulting N-series line of devices and demonstrates live the plug and play value that Citrix enterprise customers can take advantage of in their XenApp/XenDesktop or VDI-in-a Box environments.

File type: PPT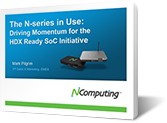 The N-series in Use: Driving Momentum for the HDX Ready SoC Initiative
Learn about customer deployments using Citrix XenApp, XenDesktop, and VDI-in-a-Box virtual desktops in various industries such as healthcare, legal services, manufacturing, and public sector and the impact of this first-to-market HDX SoC family of devices.

File type: PPT